This post is reblogged with kind permission of the author, and was originally posted on the BL European Studies blog: http://britishlibrary.typepad.co.uk/european/2014/06/early-photography-in-spain.html 
The Spanish National Library in Madrid (Biblioteca Nacional de España; BNE) has mounted a small, but representative exhibition drawn from its photographic collections, entitled 'Fotografía en España (1850-1870)'. In that period, demand for photography grew rapidly as a means of documenting events and of capturing images of landscape, famous buildings, city landmarks, and art works. Photography also became a new medium for portraits of leading contemporary figures and of the family. It was also important for recording infrastructure projects.
Several of the photographers who worked in Spain were foreign. One of them was a Welshman, Charles Clifford (1819-1863), who set up business in Madrid in late 1850. He produced a considerable body of material over a short period of time, including the album Voyages en Espagne (1856), consisting of some 400 images of famous civil and ecclesiastical buildings and monuments.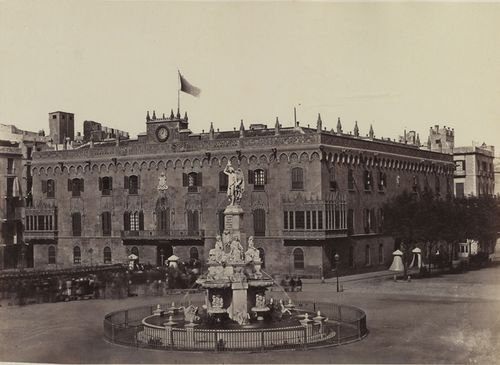 Charles Clifford. Palacio de la Reina, Barcelona (1860).  BNE.
Clifford's success brought him the patronage of the Queen Isabel II. He recorded some of the construction projects being undertaken in her reign, notably that of the canal which brought a secure supply of fresh water to Madrid and which bears her name.  In fact 'Canal de Isabel II' is still the name of the water utility of the Madrid region. He also accompanied the Queen on her royal journeys around Spain.
Another leading photographer, the Frenchman Jean Laurent (1816-1886), began his career in Madrid before Clifford. He too specialised in city views, buildings and monuments, and also in photographing works of art. The BNE exhibition includes his photograph of the Congreso de los Diputados  and also of Velázquez's Las Meninas.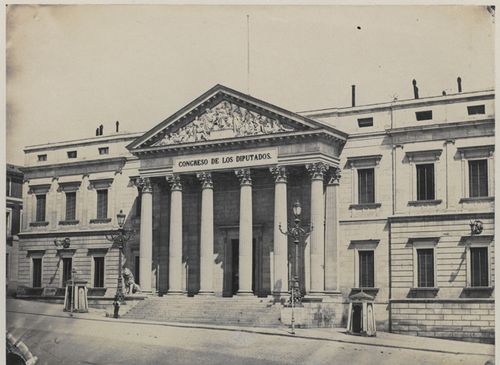 Jean Laurent. Congreso de los Diputados, Madrid (1855-60). BNE.
Both Laurent and Clifford produced images of the Alhambra, considered probably the most picturesque (in the literal sense) site in Spain and an undoubted draw for the growing number of travellers in the second half of the 19th century. Another favourite destination was Santiago de Compostela, and the exhibition includes a photograph of the Pórtico de la Gloria by another British photographer, Charles Thurston Thompson (1816-1868).
The exhibition includes a number of other subjects. There are portraits, e.g. of Pedro Antonio de Alarcón (author of The Three-Cornered Hat), the actress Adelaida Fernández Zapatero and the painter José María Castellanos; a female nude; and various ethnographic scenes.
The British Library does not systematically collect photographs. However, a number of special collections are held. Among these is a relatively little-known collection of photographs of Spain by British photographers. There are 230 photographs by Clifford, gathered in three albums, two of topographical and architectural views and the other of images of armour from the Real Armería  in the Royal Palace in Madrid. It is probable however that some of the photographs contained in this last album were the work of his wife, Jane, although they are generally attributed to Charles Clifford. Jane Clifford was an accomplished photographer in her own right and maintained the studio after Charles's death. One of the albums of views (shelfmark 1785.c.1) was part of the bequest to the British Museum in 1900 of Henry Spencer Ashbee, the noted collector of works both of Miguel de Cervantes and of erotica.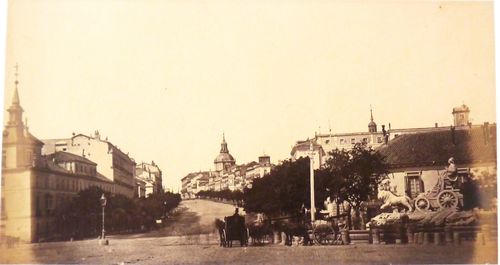 Charles Clifford. Calle de Alcalá, Madrid , with the Cibeles fountain (ca. 1857). BL, 1785.c.1, no. 57.

Charles Clifford. West door of Salamanca Cathedral (ca. 1858). BL 1704.d.9, no. 65.
The Library also holds 39 photographs by Charles Thurston Thompson, some of the cathedral of Santiago de Compostela, the rest of the monastery church of Santa Maria da Vitória, Batalha, in Portugal. These are held in two albums. Thompson held a post as photographer of art works at the South Kensington Museum (now the V&A). In 1866 he travelled to France, Spain and Portugal on a photographic expedition on behalf of the Department of Science and Art.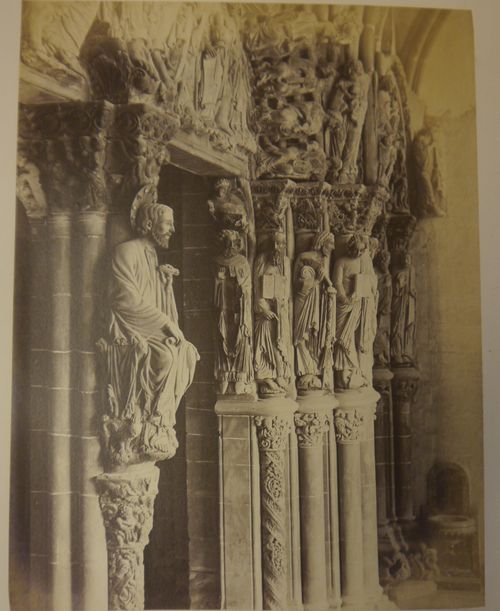 Charles Thurston Thompson. Pórtico de la Gloria, Cathedral of Santiago de Compostela, with the statue of the Saint (1866).  BL 1811.a.18, no. 4.
Geoff West, Lead Curator Hispanic Studies, British Library
Bibliography
Lee Fontanella, La historia de la fotografía en España (Madrid, 1981). LB.31.b.6876
Lee Fontanella, Clifford en España. Un fotógrafo en la Corte de Isabel II (Madrid, 1999). LF.31.b.5746
See also the British Library's historic photographs feature: http://www.bl.uk/onlinegallery/features/photographicproject/index.html and the  online catalogue of photographs: http://www.bl.uk/catalogues/photographs/
– See more at: http://britishlibrary.typepad.co.uk/european/2014/06/early-photography-in-spain.html#sthash.Jh6bUPzL.dpuf